Chiropractor in Grosse Pointe Woods, MI.
Our office is located in Grosse Pointe Woods, a northeastern suburb of metro Detroit, on Harper Avenue. We are just south of Allard on the east bound 1-94 service drive in the Grosse Pointe Office Plaza. We have been in the same location since 1994.
Areas of Service Include : Grosse Pointe Communities (Grosse Pointe Park, Grosse Pointe, Grosse Pointe Woods, Grosse Pointe Farms, and Grosse Pointe Shores) St. Claire Shores & Harper Woods.

The combination of Chiropractic and massage can be very beneficial. While Chiropractic allows for better health through a vibrant nervous system, massage strives to help people through calming the nerves, and relaxing the muscles. Our massage is a combination of Swedish, Pressure Point, and Reflexology focusing on problem areas. The technique is deep and smooth. The most popular is the one hour session, but we also offer 20 minute, 1/2 hour, and one and 1/2 hour sessions. Massage is given by Dr. Tsakos .
Triangle Chiropractic and Massage
19650 Harper Avenue
Grosse Pointe Woods, MI 48236
313-885-9496
Monday:
Tuesday:
Wednesday:
Thursday:
Friday:
Saturday:
10:00am - 1:00pm & 3:00pm - 7:00pm
03:00pm - 7:00pm
10:00am - 1:00pm & 3:00pm - 7:00pm
10:00am - 1:00pm & 3:00pm - 7:00pm
10:00am - 1:00pm & 3:00pm - 7:00pm
11:30am - 3:00pm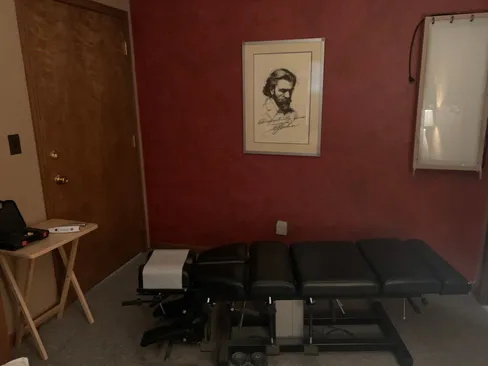 Click here for door to door driving directions
Appointments
We know you have many choices when choosing a Chiropractor in Grosse Pointe Woods, MI, so we have made requesting an appointment a simple process via our Web site. If, for any reason, you cannot keep a scheduled appointment or will be delayed, please call as soon as possible. Charges may be incurred for appointments cancelled less than 24 hours before scheduled appointment time.
Insurance / Managed Care Plans Accepted:
Blue Cross/Blue Shield
United Health Care
Medicare
Aetna
PPOM or Converges
HAP / Cigna
Types of Payment Accepted
Prepayment plans are available for uninsured patients. We accept Visa, Mastercard, American Express, and Discover. Cash and Check are of course accepted
Emergency / After hours information
In case of an emergency, Call the office at 313 885 9496 and press 2 once you hear the voicemail message, leave a message after the tone including your phone number, this will get a message to the doctor immediately.